PRODUCT EXCELLENCE AND CUSTOMER SATISFACTION
NSS Fasteners was originally established to import and distribute socket cap screws.

The NSS trademark was registered in 1978 and since then the company has grown to become the largest importer of all types of standard fasteners in both Southern Africa and Africa.

NSS Fasteners imports fasteners from all over the world, at very competitive pricing, which is then distributed throughout our beloved country and its neighbours.

A fully comprehensive range of carbon steel and stainless steel fasteners is distributed from our central warehouse and sales office which is located in Johannesburg.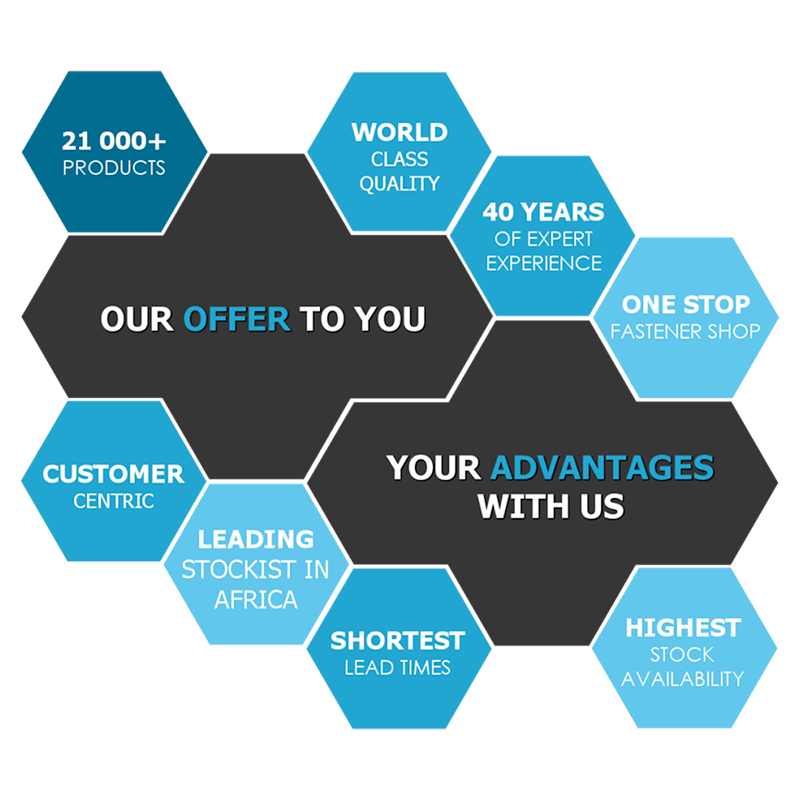 The NSS Core Values & What Drives Us...
Our core values are the fundamental beliefs to our organization. These guiding principles dictate the very behavior and can help our people understand the difference between right and wrong within our workplace.

The core values also help to determine if we are on the right path and are fulfilling our goals by creating an unwavering guide.

These values are essential in ensuring we move forward together as a Company, by showing our people better ways of innovation, integrity and honesty.

Combing these seven fundamentals, we are leaders in our industry and champions to all our loyal customers.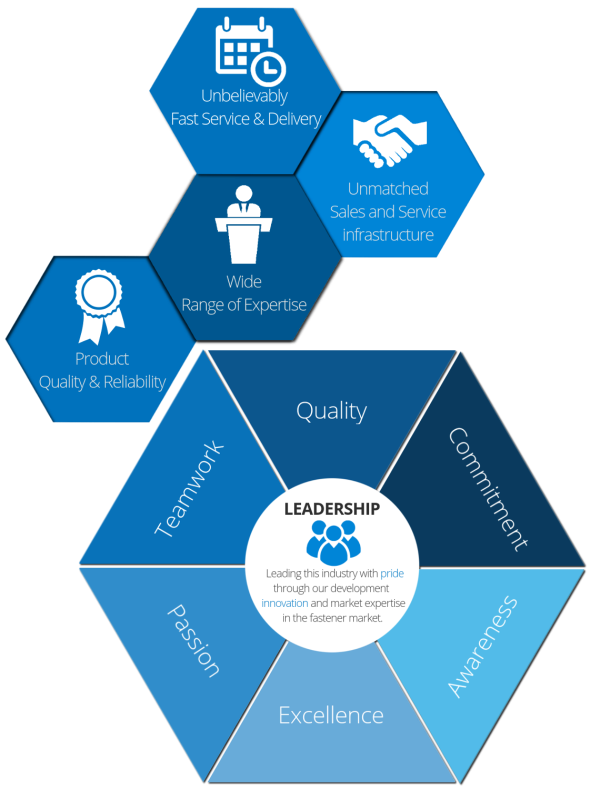 The Core Values That We Follow Are...
Your expectations are high and our standards are even higher. Our quality products and customer service won't ever let you down.
Through our development, innovation and market expertise we lead this industry with pride.
Our ethics of loyalty to our customers, our work force and suppliers, reflects in everything we do, keeping our promises and always delivering.
We appreciate that this industry does not exist in a void. NSS is critically aware of the environment as well as the health and safety of our employees.
There is pride in all aspects of our work, from our relationship with customers to our employees and the high standards of work we perform.
A business without passion doesn't perform. Our innovation and creativity partner with our passion to produce newer and better products for our all our valued customers.
Our holistic business model ensures our operations and customer service are efficient and helpful, provided to you by the family that is NSS Fasteners.